Hello, my name is Leslie Weldon and I have been designing kitchens and baths for the last thirty years in the Puget Sound and surrounding areas. I can't believe where the time has gone but it has been a fascinating adventure.
I remember when the kitchen was in the back of the house, no view and certainly no interaction with other people. I watched as the Great Room concept took hold so the families and friends could enjoy each others company as they created and ate meals together. Have you looked at older homes lately and noticed bathrooms were merely functional and pretty small at that. Now bathrooms are places to enjoy downtime, to pamper yourself and relax and grab a quiet moment.
I realized shortly after graduating from design school that I enjoyed space planning and designing rooms that had functional requirements. It is a challenge to meet all the needs of a client and still create a beautiful and personal space. Kitchens and baths require a lot of technical expertise and an ability to keep up with changing styles and trends.
It is my goal as a designer to not only create a space that functions in a way that supports you but also realises your dreams visually. I want you to walk into your kitchen and bath and feel yourself, your point of view and aesthetic. That is my job, not to give you a room I designed but a room that reflects YOU.
I have had an interesting career and have worked at and designed some of the nicest showrooms in the area, including Clive Christian and Eastside Kitchen and Bath. I enjoy the relationship that develops with clients and the problem solving journey we take together. I earned my CKD, Certified Kitchen Designer, in 1994 as a commitment to the industry and the people I serve. I have also been lucky enough to have many projects published in shelter magazines and books.
I look forward to talking to you and helping you move forward on a project that reflects your values and vision.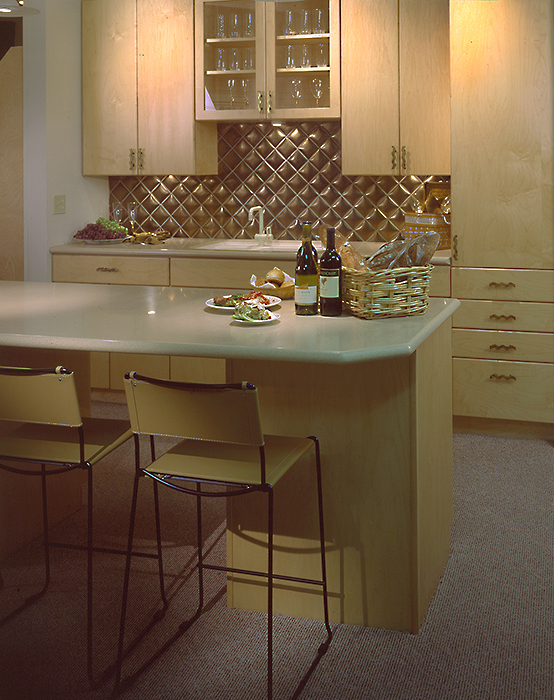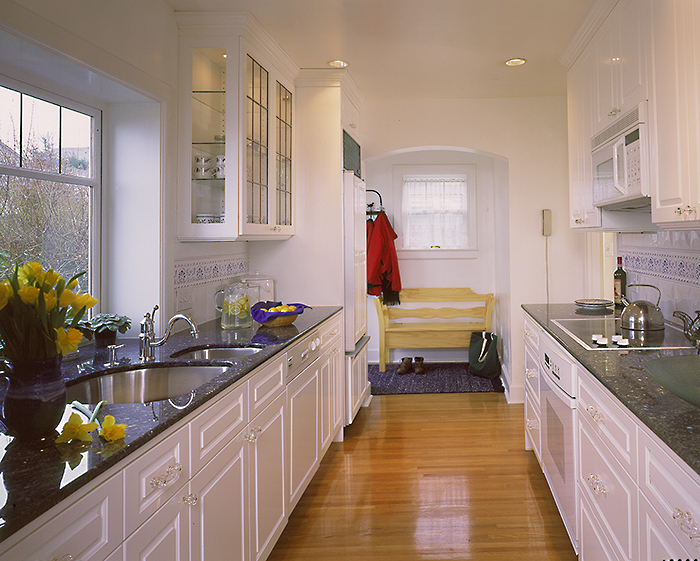 Is This You?
Do you like to look at design magazines and spend hours on Houzz, watch the remodeling shows on television and dream about what your kitchen or bath could be?
Do you have a vision that is wandering around your mind but need help getting it down on paper?
Wondering if what you want will work....
Hoping to find someone that will hear you and maybe even have ideas that will open your eyes to new possibilities
You want your new room to reflect your aesthetics and feel like a part of you when it is done?
Do you need guidance so you know what you are getting into and how to navigate through the process?
You want a sense of safety before you start.
You need support in getting good quality materials .
Help with finding talented and professional contractors .
Creating a realistic budget and then staying on it as the job progresses.
Who you can trust to have your best interests at heart?
Leslie is extremely talented. She created for us a kitchen that was far more functional, quite beautiful, and that capitalized upon our Sound view. She was easy to work with and willing to listen to our input.
Tom T.
Do you have a million questions and want someone with patience to help you answer them?
There is so much to know and you don't even know what you don't know.
You need help going through your options and deciding which ones are most important.
Can this be fun and exciting?
Leslie was great to work with. She had wonderful ideas and suggestions and listened very closely to my ideas too. She had great follow through and the project was completed in a timely manner. Her experience shone through in every aspect of the project.
She is very conscientious with every detail from beginning to end. I am extremely pleased with both my bathroom and my kitchen.
I would highly recommend her to anyone looking for a talented, warm and enthusiastic designer.
Karen W.
If this sounds like you, I can help.
Call me so we can start a dialogue about your project and please don't feel obligated, there is no way for you to realize your dream without that first step.
To schedule a Dream Project Consultation call (425) 392 3112
Design Process
Getting to know each other-
I assume that our first meeting will be on the phone where you get to learn about me and I get to hear from you what your project involves and how you would like to handle things. If we seem to be on the same wavelength I like to come to your house and see the project and what you envision. I will take measurements and start working on a design to suit the parameters of the room and your wants and needs.
Investigating What's Possible-
The next time we meet I will have some new designs and materials for your room that you can review. We will discuss the things you like and the things you don't. I am not sensitive, this is your house and it needs to suit you. Once we go over the possibilities and decide which direction to take, we can move onto the next step.
Detailed Specifications-
I will take what we have created and start putting prices to those decisions. I will create a list of things that go into the project and price them. This will include materials, appliances, fixtures, tile, counter tops, cabinets , architectural detail and layout designs, the building blocks indispensable to defining your remodel. The detailed specifications give basis to the level of contractor and subcontractor skill required to successfully accomplish your remodel.
Bid and Budget-
With all the pieces in place I will price everything out using allowances for the things you have yet to pick out and hard costs for the things you have. I will get my contractor to estimate the labor as well. I will be keeping your budget in mind. When we have agreed on a scope of work, we will proceed with the project and to the next step. Don't worry, there is a lot of going back and forth during a remodel and you will have time to refine your choices as we proceed.
Starting Your Project-
Once all the designs are approved and decisions are made your materials can be ordered, prior to demolition of your home and reconstruction. The planning that goes into design and material decisions is instrumental not only in obtaining a valid bid and budget – this planning is also pivotal to the construction schedule. You have an expectation of when your remodel will be completed and you will be disappointed and frustrated if it isn't done on time. A vital component to being done on time is to have the materials on hand, ready to go. When all materials have been specified prior to the bid process, it is straightforward to get those orders in process early.
Moving On With Your General Contractor-
You've got to have a Great General Contractor. Their skills and the quality of their sub-contractors are both going to determine the outcome of your remodel. You are going to spend a lot of time with this person. The cost of their bid is only one consideration. The abilities to communicate well and work together closely are equally important to the sanity of all involved and the smoothness of your remodel. Choose your general contractor well – you need him or her – he/she works for you – he/she is accountable to you
Reviews
Leslie is so easy to work with. She listens to your requests and makes great recommendations. She provided us with a design my husband and I could work with and we completed the job as we had requested. Love our new kitchen! It's everything and even more than we could have imagined. Val Cooper, homeowner
Mid Century Modern in Bothell
Oh how we love Leslie! My husband and I were nervous to start a large remodel of our home that we had been dreaming about for 17+ years. We knew we needed the help of a designer to make things perfect and we couldn't be more pleased that we luckily found Leslie Weldon Design. We arranged an initial meeting at our house where we went over our ideas, having no idea how much our dream project would cost and how to even begin the process. Leslie is a godsend to us "newbies". She has so much experience and is an honest, realistic communicator. Our plans included moving our kitchen to another area of the house, removing load bearing walls and completely changing the look and feel of our 1970's rambler. Leslie was so proficient throughout the process and has wonderful connections in the business. She introduced us to our contractor and was present in our planning meetings with him. After that, Leslie and I communicated over email and over the phone. She worked up several different layout plans for us, including 3D renderings, and helped us outline our budget and planning needs. She was wonderful at showing us ideas that I hadn't thought of previously. Once we picked our layout, Leslie expertly ordered our cabinetry and assisted with all the other design aspects such as lighting, tile, counter tops, hardware and flooring. She often was a liaison between our contractor and us, saving us a lot a time. At the times when we felt overwhelmed, it was a great comfort having Leslie to explain things and to help us set expectations. Her experience and knowledge is invaluable and our home remodel turned out beyond our wildest dreams. We now consider Leslie a dear friend and we look forward to working with her again.
Julee Jensen, homeowner
Moving the kitchen in Sammamish
This was the first time my wife and I were going to go through a remodel. Our plan was to remodel the kitchen and entire downstairs area. After getting to know and receiving several quotes from other kitchen remodeling companies on the east side, we decided to work with Leslie and we are very glad we did! The new kitchen we got turned out even better than I thought and my wife and I are extremely pleased with the results and we are very happy working with Leslie.

We have heard of the horror stories people can go through with their remodels and we wanted none of that. Meeting with Leslie put all that to rest. For starters, Leslie has over 25 years of experience designing kitchens. She is very friendly, very easy to talk with, and she listened to all of our ideas about what we wanted to do. She also has built up a solid relationship with the Contractor that would be doing our job and has known him for over 25 years. She setup a meeting so we could meet with the Contractor and get to know him too. It all felt very open and honest and very quickly my wife and I felt we were in good hands.

I would also like to say I was very impressed with communicating with Leslie. She answered all my emails very quickly and on the same day, sometimes within minutes. She was very patient with me in answering my questions and went out of her way to find out specific info we needed whether it was with the cabinet company, appliances, ect. It felt really good to know she was really willing to go out of her way in getting back to me quickly. I did not get that type of service when I was temporarily working with other kitchen companies. In my advice to you, especially if this is your first remodel, I think it is really worth it to work with a designer that would have that 1 on 1 relationship with you to help guide you and answer all your questions. Leslie did this and exceeded all my expectations and made the whole process actually quite easy on us.

So before we began on the remodel, Leslie came up with several designs and drawings and came up with some very creative ideas for our house. We had a lot of ideas for her too, and she craftily incorporated our ideas into the design while also giving her advice if we weren't too sure what would work or not. It was a very fun process. Once we got some ideas for the design nailed down, we got some plans and 3D renders from her to help us visualize it more and made a couple of tweaks as we went along.

We got a budget from her and from the contractor that laid out very clearly the things that needed to be done and how much they would cost. It was reasonable and within our budget. Some budgets were generous, such as the appliances, and it was nice to go shopping for appliances that weren't on the low end, but some nice quality stainless-steel ones. In the end, we did go over budget, but not because of Leslie, but because we found some hidden surprises once we tore down our walls; incorrect modifications from the previous owners did to the house that had to get fixed. Something that may or may not happen to you.

The whole remodel construction took 2 months and Leslie was there for us for the entire scope of the project, helping us pick out countertops, backsplash, flooring, lighting, paint, hardware, and more and recommending places for us to go look at those things before buying. She was very knowledgeable about what was fitting for the style of remodel we wanted. She was also able to clearly let us know about our timeline about when certain decisions needed to be made and what future things to expect. Like I said earlier, she made the whole process easy.

I would definitely recommend Leslie for your kitchen remodel. Trust me you are going to want someone dedicated on your project who is full of advice and able to answer all of your questions quickly. It was a bonus to have her personally know the Contractor (who we also very much liked).

After everything was done, my wife and I have a kitchen that's beautiful, comforting, and much more modernized and bigger than our old kitchen. We have much more cabinet space to store our things and so much more counter space to prepare our food. Cooking in the kitchen is fun again! Thank you so much Leslie!
Issaquah Master Bath and Bathroom
After a difficult (read nightmare) remodel experience in another bathroom and exploring options with other designers and companies, we chose to work with Leslie on our master bath and bedroom remodel. It was a wonderful experience. She is professional, yet warm - creative yet thoroughly business-like. After many years experience she knows her field and products so well that she patiently guided us to good decisions (and gently away from bad ones). She took our vague desire to turn our truly awful, cramped and non-functioning master suite into a "zen/craftsman" space and created a lovely bedroom and bathroom beyond any thing we ever hoped to achieve, with as much emphasis on functionality as appearance. We chose the contractor that she recommended and had a seamless, no surprises experience - a world away from our first bathroom remodel. Having read the other reviews, our process and experience were the same. We cannot recommend Leslie more highly and would use no other designer for our upcoming kitchen remodel.Thank you Leslie for a great remodel experience and a wonderful finished product
Jo Wilson, homeowner
I've worked with Leslie as the general contractor on several of her projects. Having been in the construction industry for dozens of years, I am very familiar with the importance of partnering with a qualified designer. Leslie is exceptional. Good designers design and plan a project that is tailored to the client and ready to build for the contractor. Not only do Leslie's jobs follow that path, but the low-stress, knowledgeable confidence she exudes makes working with her a pleasure. I would highly recommend her to any client that values a professional and objective view on design and is serious about quality.
David Getts, contractor
Contact Me
I am always happy to to talk to clients about their project. Please feel free to call me to discuss what you are up to and hope to achieve.
If you would like to talk to me on the phone, give me a call at 425 392 3112 or I will call you if you fill out the form below and send it to me.
Thanks, Leslie
Please complete the form below